Host behind your firewall
Host within your organization or use your own Azure cloud provider. With a single installation, create multiple tenants and quickly isolate resources.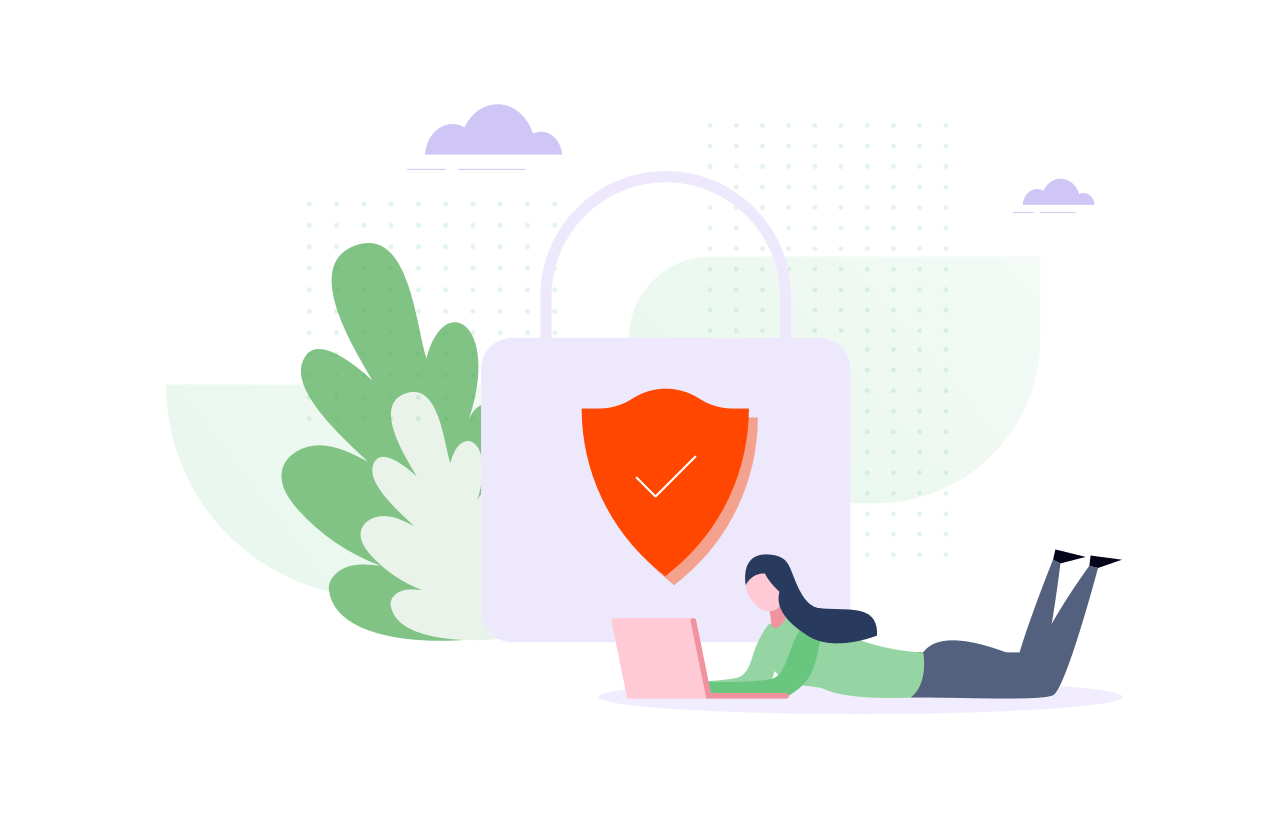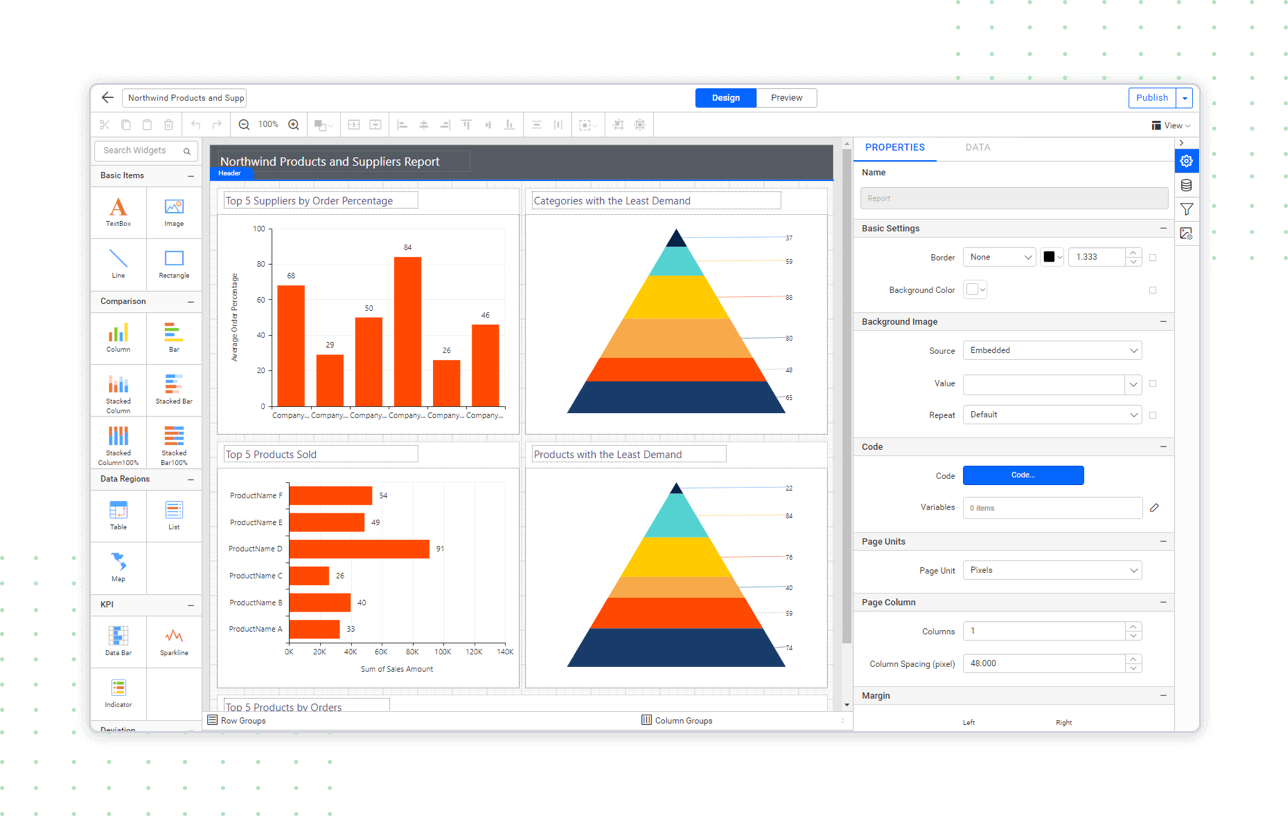 Create professional reports
Identify trends and patterns in your business reports and dig deep into your data using fully functional RDL-standard report items efficiently:
Basic items: Text boxes, images, lines, and rectangles.
Data region items: Tables, matrices (pivot tables), and lists.
Data visualization: 20+ charts, sparklines, data bars, gauges, indicators, and maps.
Subreports.
Custom report items: Barcodes, QR barcodes.
Build your interactive reports
Create interactive reports that display your data in a data region. Work with the reports at runtime through interactive features like drill down, drillthrough, hyperlink, bookmarks or anchors, document map, subreports, and nested data regions.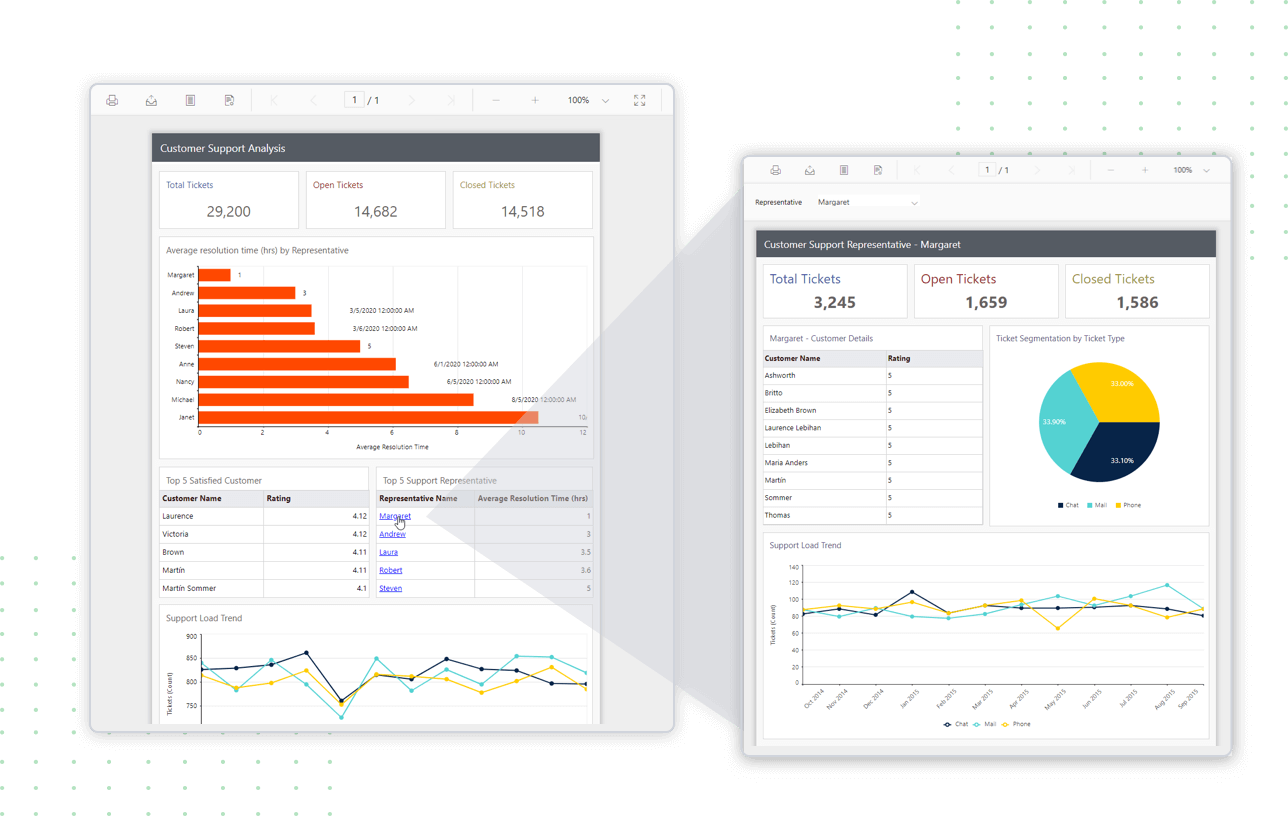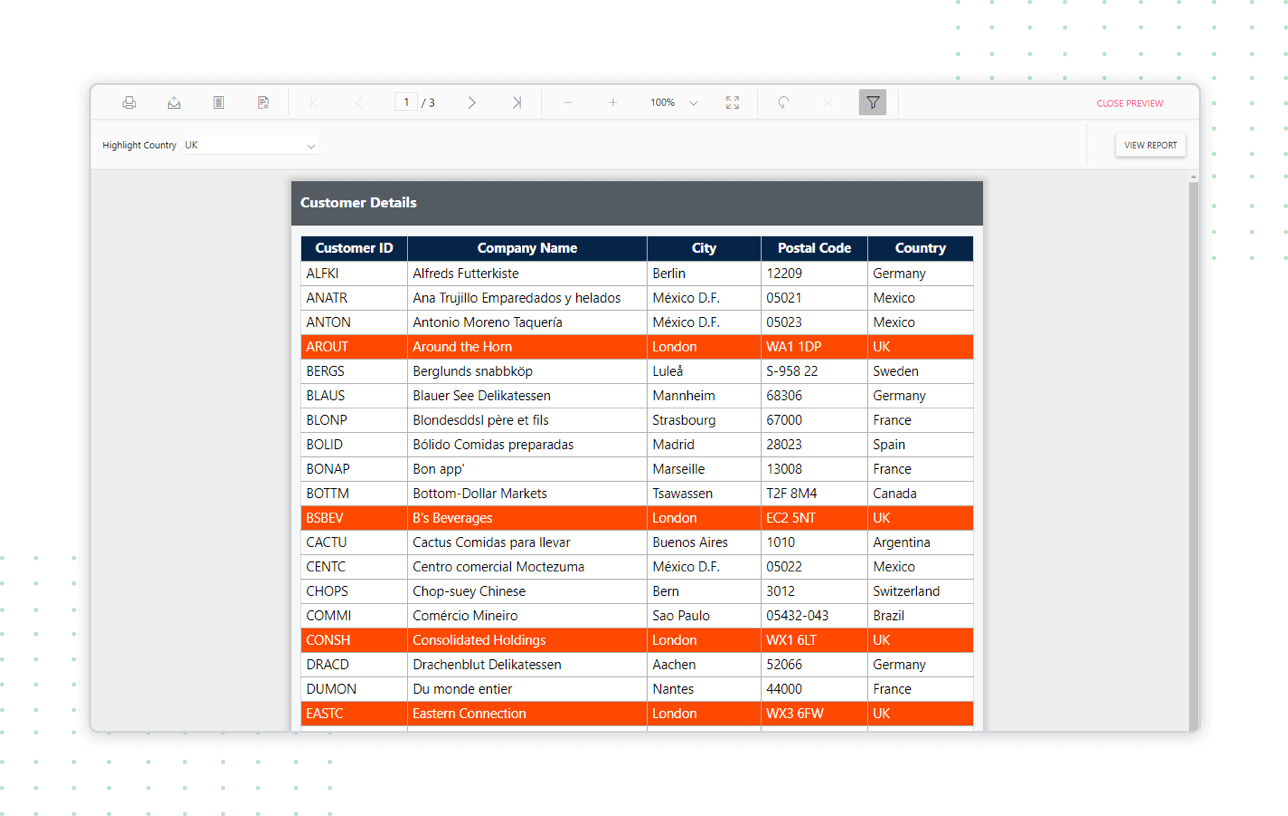 Styling and formatting reports
Enterprise Report Designer allows you to transform your data into beautiful reports easily. The WYSIWYG user interface allows reports to be edited similar to the appearance of the UI when printed or displayed. Furthermore, you can easily modify the appearance of a report using static and dynamic formatting:
WYSIWYG design surface.
Drag-and-drop layout.
Layout ordering.
Grid lines and snap-to-grid.
Aligning, sizing, and distributing.
Parameters are the most widely used functionalities for interacting with RDL/RDLC reports at runtime. Create dynamic reports with the following parameter types to modify the data presentation, providing an enhanced user experience:
Cascading parameters.
Nonqueried parameters.
Queried parameters.
Multivalued parameters.
Custom parameter layouts.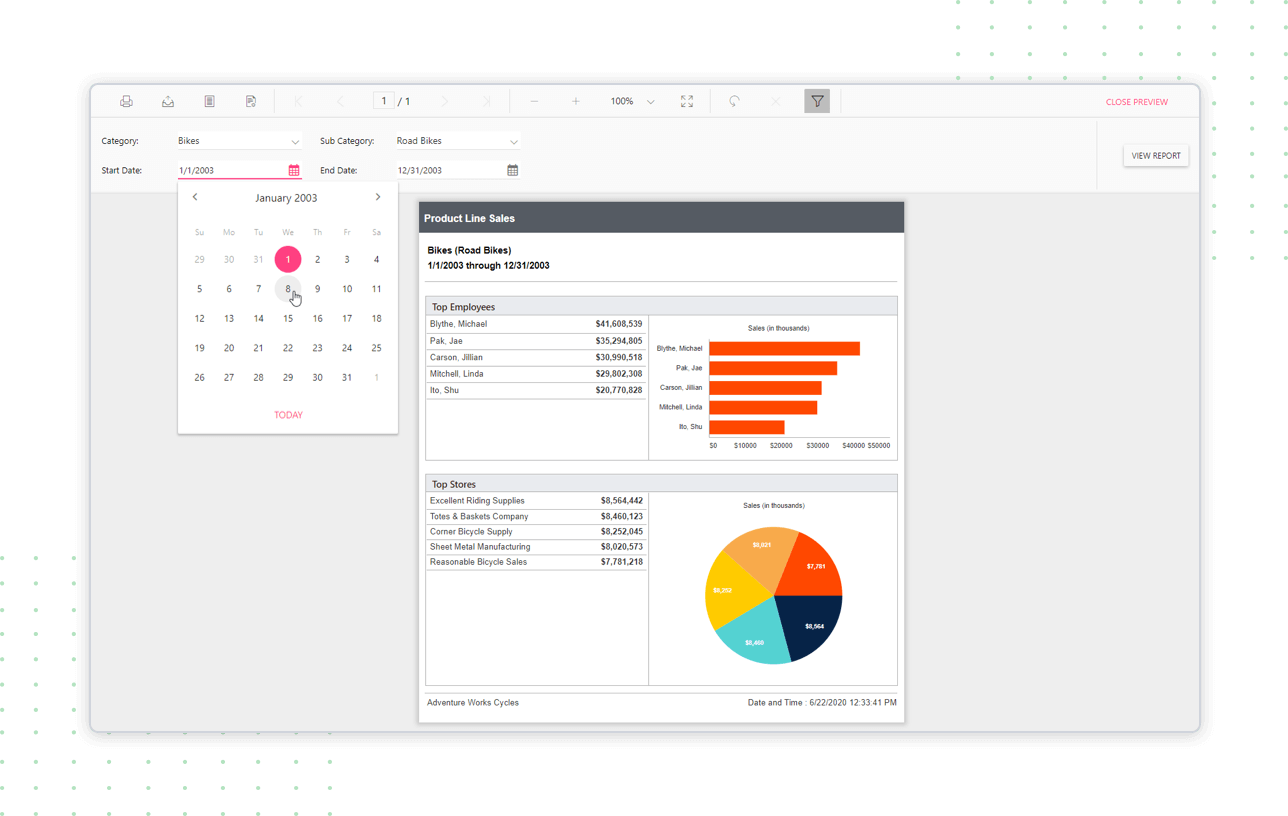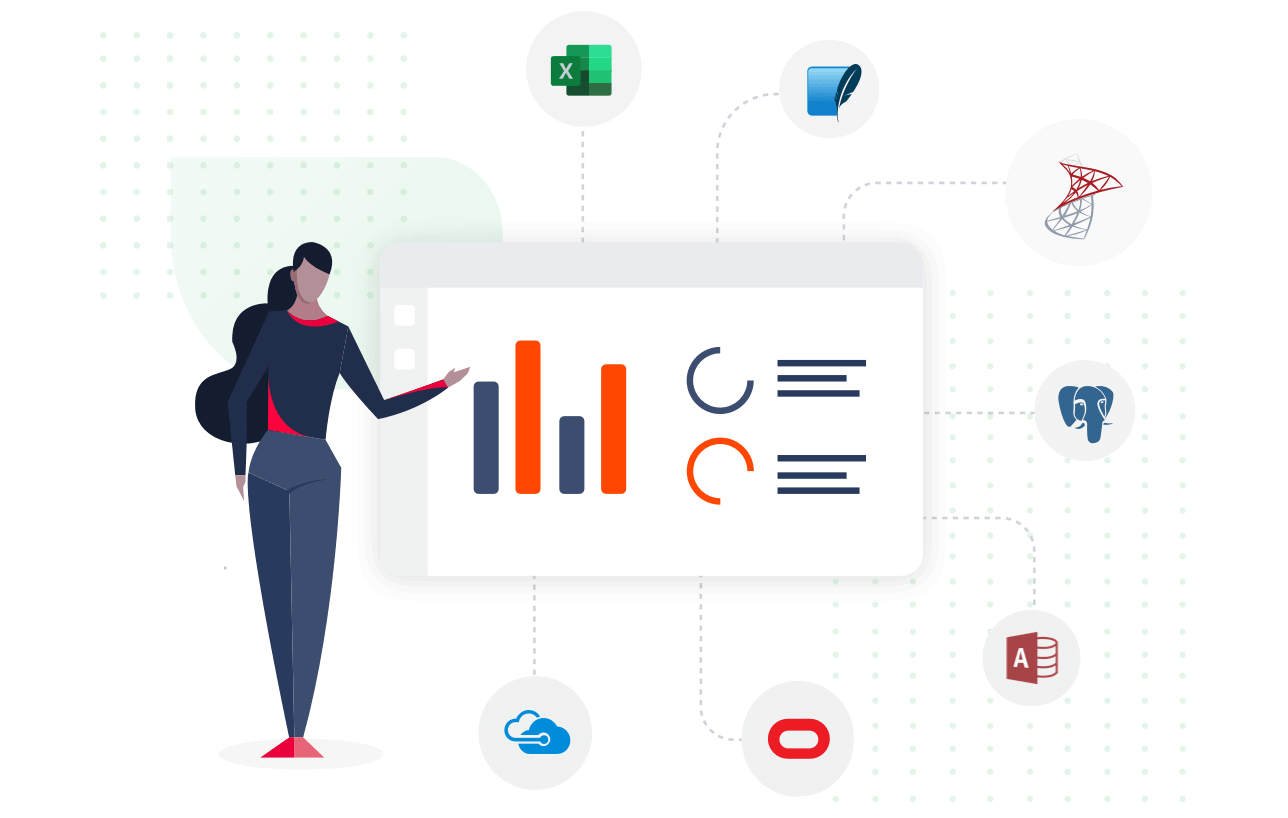 Connect to any data source
Consume data from a wide variety of data providers that are in local or server databases:
Built-in data sources: Microsoft SQL Server, Microsoft SQL Azure, Oracle, OLEDB, ODBC, Web API, OData, JSON, XML.
Business object data sources: JSON.
Custom data processing extensions: SASS, MySQL, PostgreSQL, and more.
Use shared data to keep a data set used in multiple reports synced and to switch between testing and production without modifying the reports. It provides an easy way to manage data sets and sources so that a change in one place is shared across multiple reports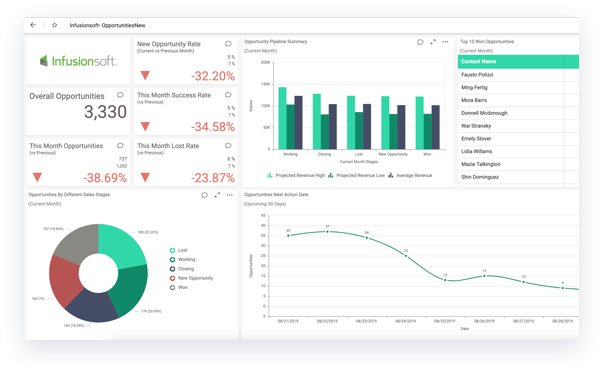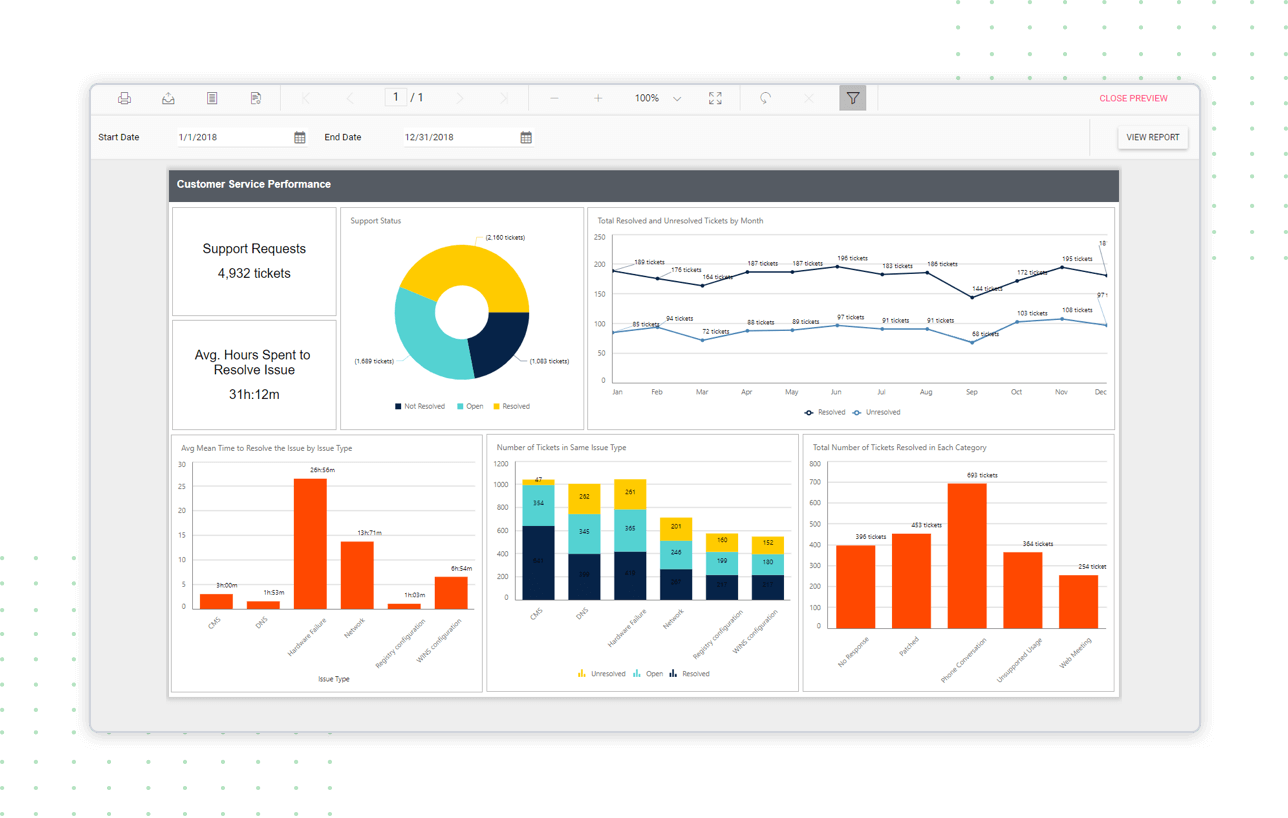 Eye-popping visualization
Enterprise Report Viewer visualizes the metrics of your business data in meaningful ways, giving you insights into your business that allow you to make bolder decisions. The Viewer lets you view already available reports in a browser when you select a report.
Effortlessly print and export the report contents by just clicking the print or export option in the toolbar. The most popular file formats, such as PDF, Word, Excel, CSV, PowerPoint, XML, and HTML, are supported.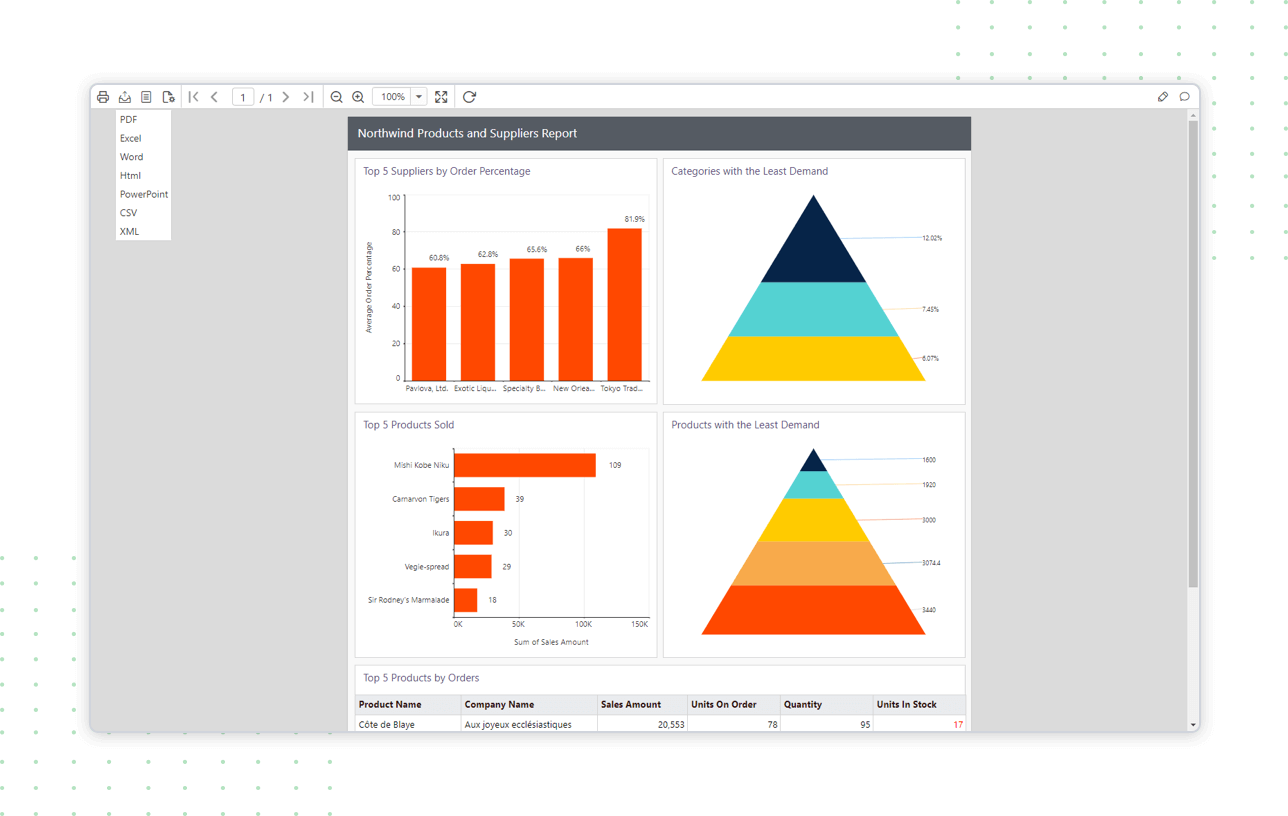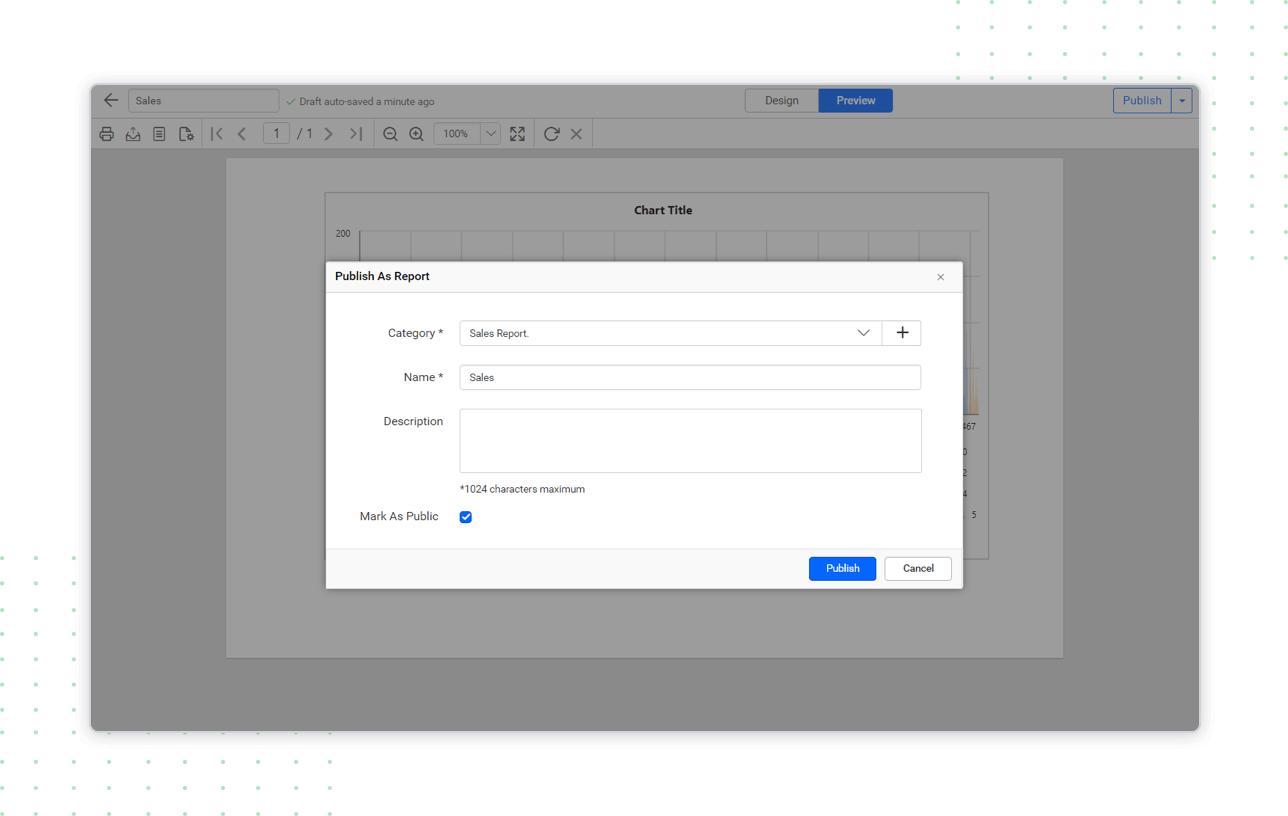 Save reports directly to the Enterprise Report Server categories. Organize and manage your reports with flexible permission as needed. Save the reports as public to make them accessible to anonymous users.
Manage access control and permissions
The Enterprise Report Server uses role assignments to limit access to published resources. A flexible user interface lets you create and manage user roles to maintain the organization hierarchy. Easily set permissions for the following:
Users and groups.
Categories and reports.
Shared data source or data set.
Schedules.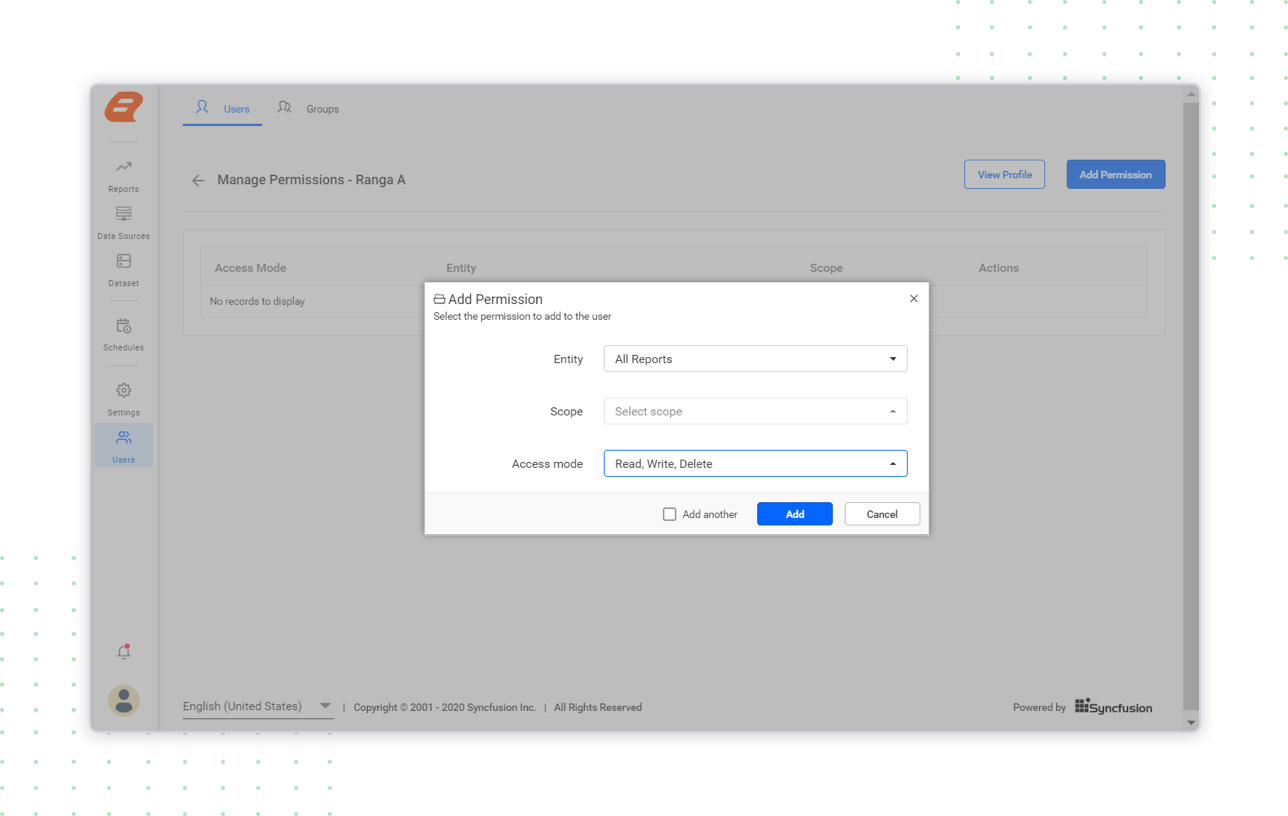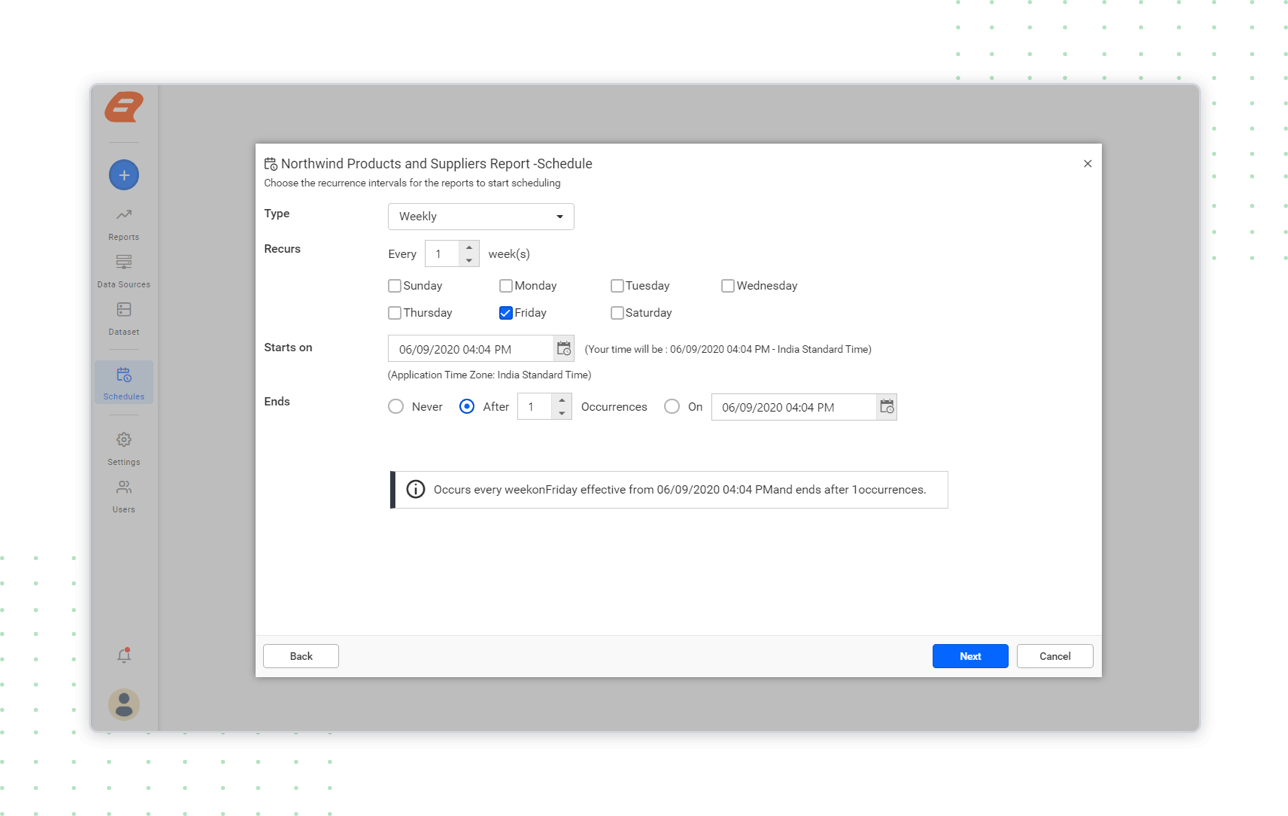 Schedule and share reports to a mailbox
Create customized schedules for sharing reports with stakeholders in most commonly used file formats with the following additional options:
Parameterized schedule.
Set recurrences: hourly, daily, weekly, monthly, yearly.
Encryption and compression of documents.
File formats: PDF, Excel, Word, and more.
Collaborate with stakeholders
Easily collaborate with other stakeholders. Discuss business strategies while reviewing data by directly tagging colleagues in discussion threads to share direct links, images, and screenshots. Built-in Markdown-formatted comments make collaboration incredibly easy and effective. Keep stakeholders in the loop with real-time alerts about pending notifications via email and at the application level.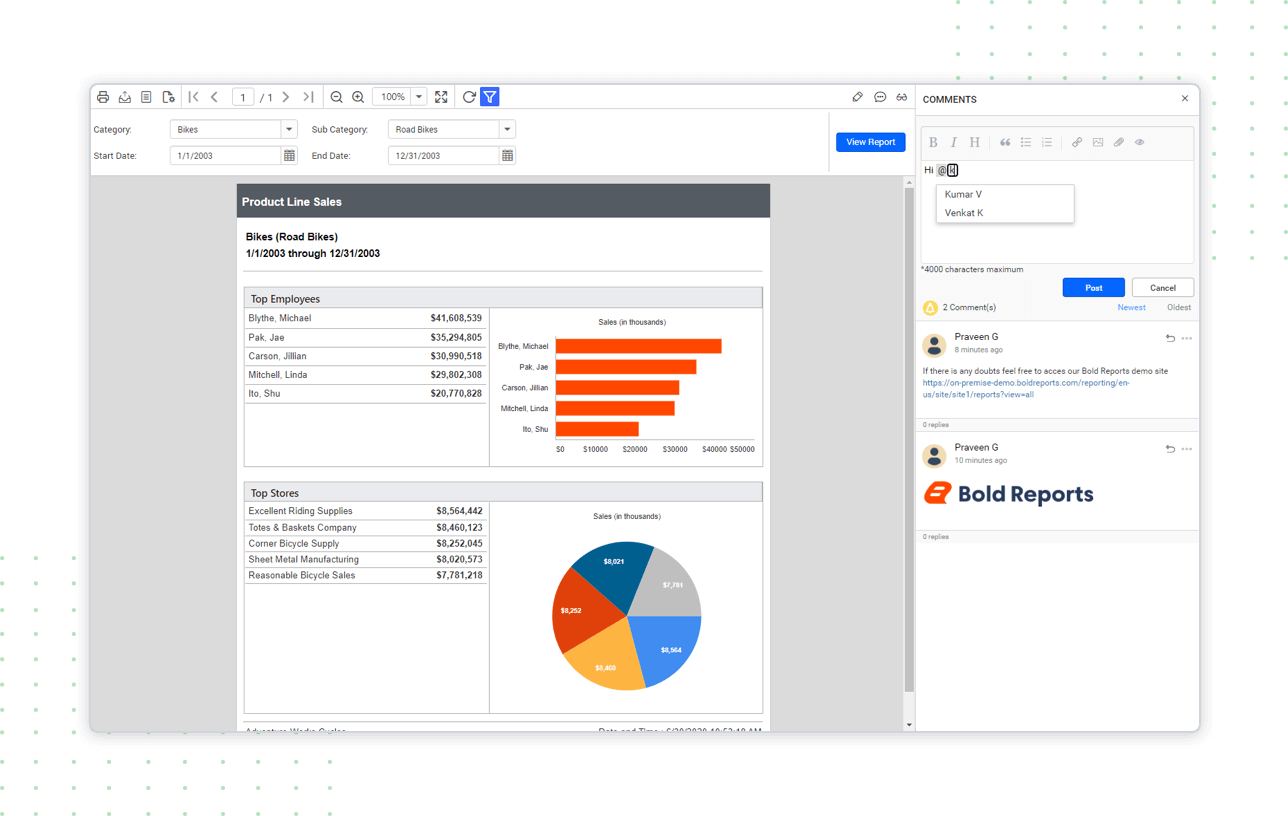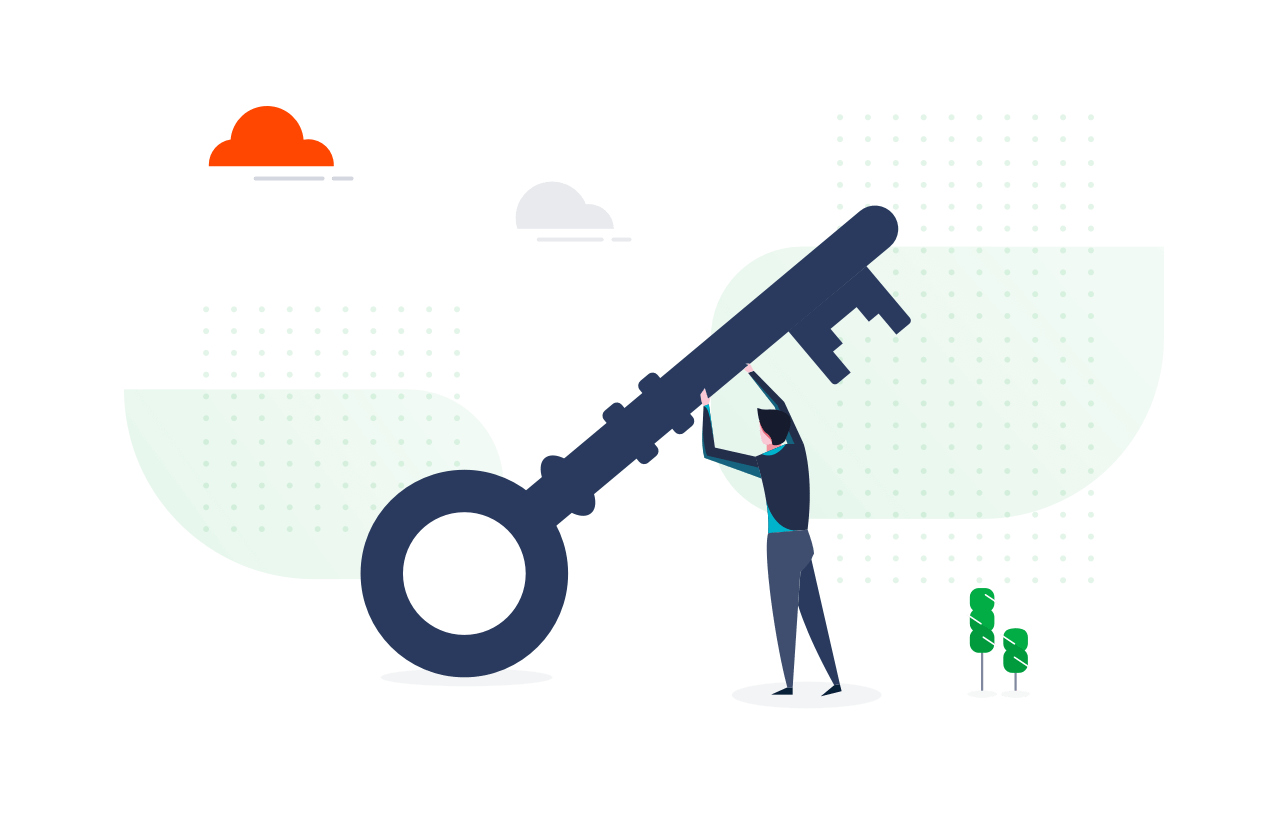 Multifactor authentication via single sign-on is available when securing the system, such as Active Directory, Office 365, OAuth, and Open ID. This allows you to integrate with external authentication to provide one-click access to all SAML-enabled applications.
All traffic is secured using Transport Layer Security protocol (TLS 1.2). You can rest assured that your data is safe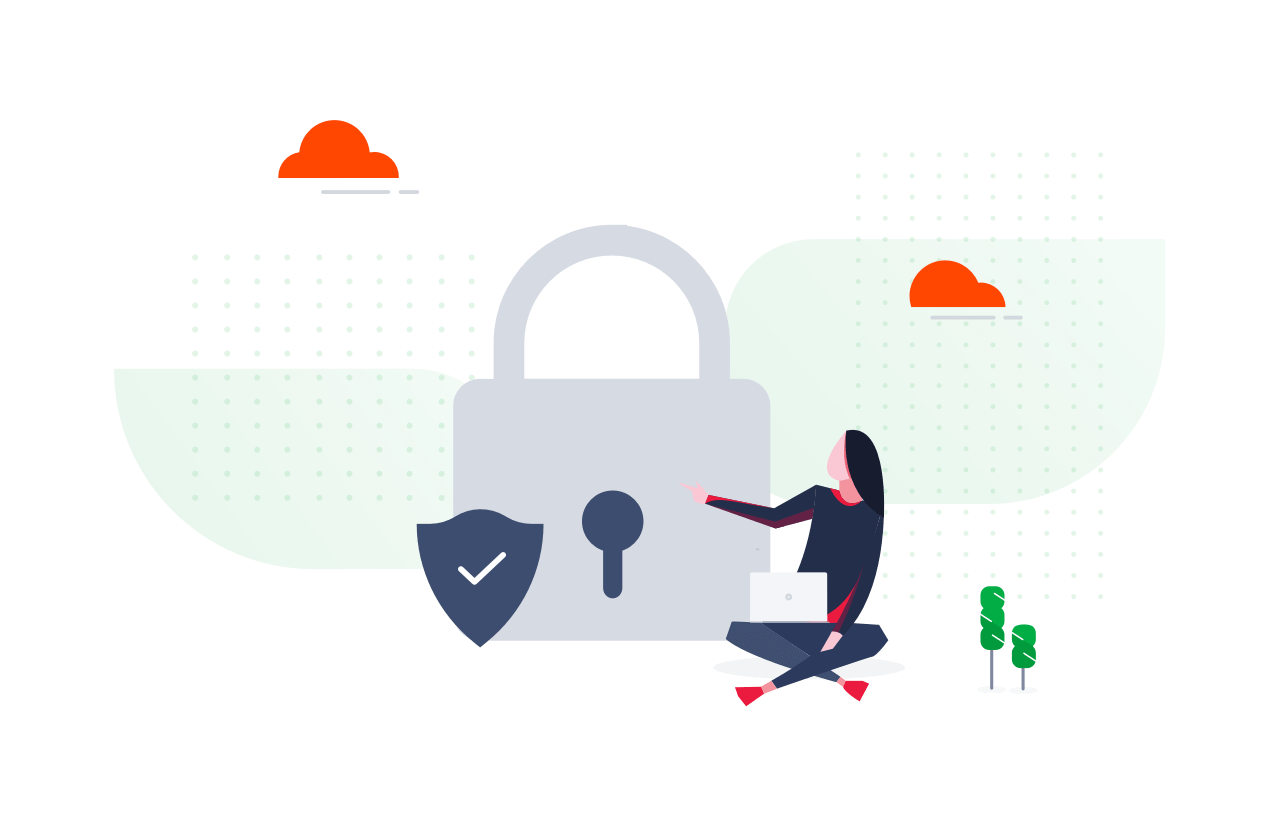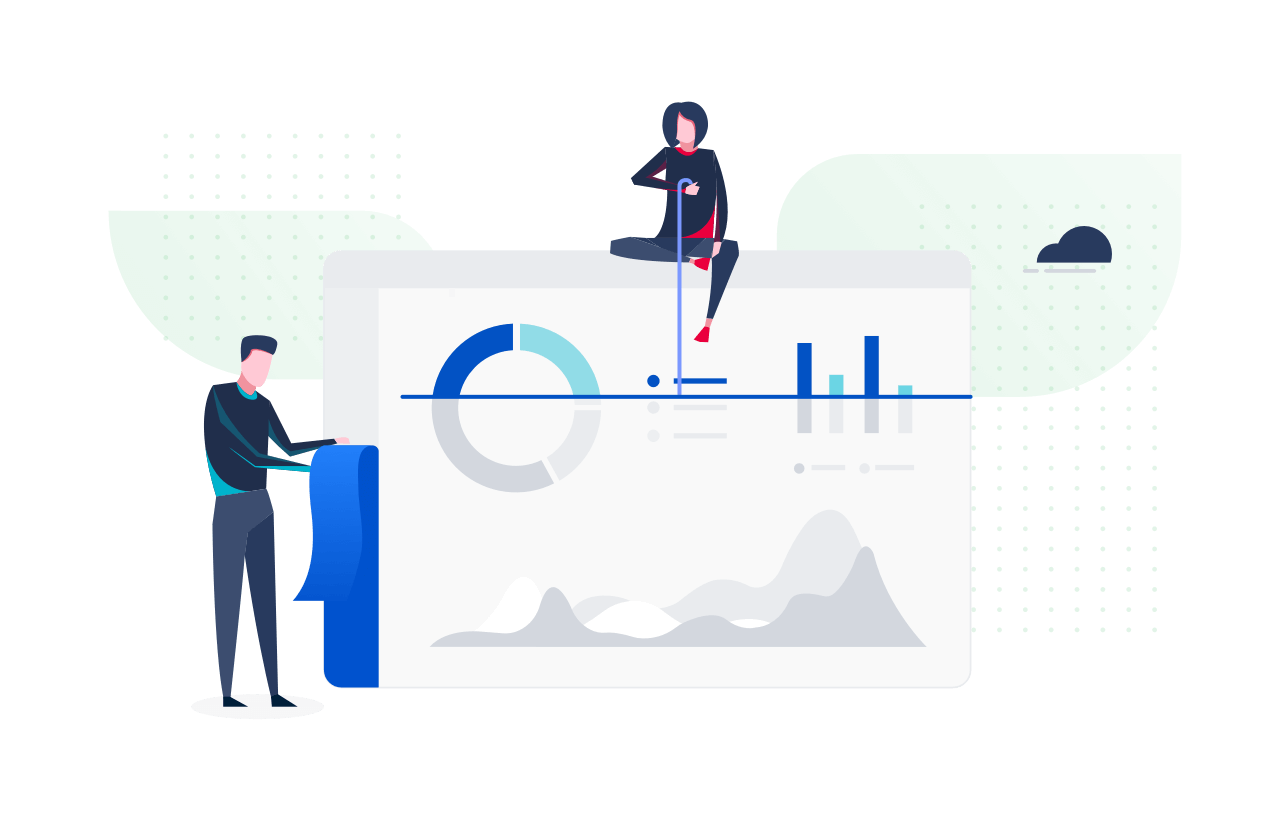 White-labeled reporting app
The Enterprise Report Server provides built-in rebranding capabilities to represent your organization brand using the following options:
Static text and images.
Customized emails.
Easily embed the Enterprise Report Server functionalities into your application using REST APIs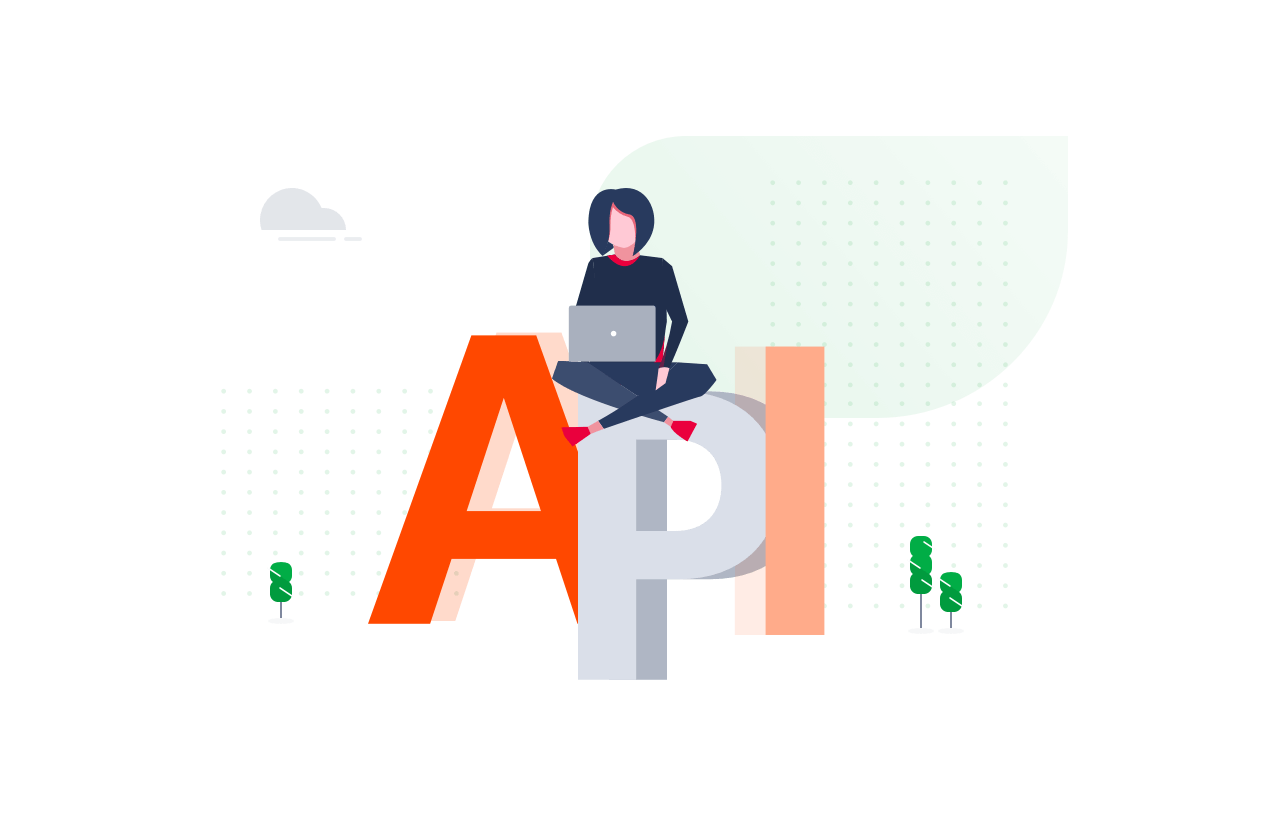 Try us. We promise you that you will be able to see clearly and act boldly. 
Sign up for a live 30-minute demo with our experts